Getting Started Guide
From PropertyMinder WIKI
PropertyMinder's team is happy to bring you the cutting edge technology that will enhance you business. We are sure that working with our product can also be a fun for you. We hope you'll enjoy it.
Your AccelerAgent website is more than just a web page. AccelerAgent is packed with powerful tools not only will bring visitors to your website but will keep them interested and updated in your service. Therefore, we recommend you to follow these short checklist in order to get started and get accustomed to AccelerAgent product:
Step 1: Accept Terms of Use
In order to take advantage of your website you must accept the Terms of Use. The Terms of Use acceptance is located on the front page of your website and a click will allow you to review the full document. To accept simply type your email address and check the acceptance box at the bottom of the page. This will grant you full access to your new website. If you have further questions regarding our Terms of Use please call us directly at 1-800-743-5820.

Step 2: Change your Password
You have logged into you Toolkit for the first time with default password. Now you need to change it. Go to Personal Profile located on the left navigation bar. Your personal information will come up and you will see Your Password. Type in your current default password and then type your new password and click Submit. This will save your new password and ensure your site is secure.

Step 3: Direct your Domain Name
If you want us to switch your existing domain name over to your new website, please contact Customer Support at (800) 743-5820 and we will assist you.
To see if the domain name you want is available and to purchase it right now, please Click Here (Powered by Godaddy). For the domain name price list please Click Here.

Step 4: Add MLS support and enter your listings
Visitors come to your website to see your listings. So you need to add them. You can do that manually or they will be uploaded automatically if you requested MLS support.
If you have requested MLS support for your website, you will receive the MLS agreement form via email. Please follow the instructions within that email. If you did not receive the email or wish to add MLS support, please contact our Customer Support at (800) 743-5820 and request information for your MLS.

Step 5: Customize Your Website

Step 6: Market Your Website
PropertyMinder offers an advanced marketing class on Search Engine Optimization, leveraging your social media profiles, and other online marketing techniques. Please go to our Tech-Mar page for more information.
For an additional charge, PropertyMinder Pay Per Click experts can help you create and manage an account that will drive traffic from YAHOO!®, GOOGLE™ or MSN® to your AccelerAgent™ Website.
Step 7: Advertise Your Listings on Craigslist
A great way to maximize exposure of your listings and generate some immediate activity from your website is to use our AccelerAd Craigslist posting system. In about a minute, your listings will be posted into Craigslist to drive online buyers back to your website. See the step by step instructions and video for AccelerAd.

Step 8: Add your client information
Now when you have your beautiful website with your amazing listings you need to show them to your potential clients. Add your client into client relationship manager automatically or manually!

Step 9: Analyze what your users are doing on your website
PropertyMinder offers you a number of tools which helps you track and analyze your clients activity and provide you information for website visitors. Please check these articles Clients_search_activity and Website_Statistics.

Step 10: Schedule your Free Training
We offer an initial free online one on one training class to get you familiar with your new site. We also offer free webinar trainings three times per week that get you acquainted with your new website and all of it's useful tools. You can sign up at your leisure by going to webinars and choosing the class and time that best suits your busy schedule.

If you can not find answers to your questions in our Online Help or Training Videos, you may always email support@propertyminder.com or call (800) 743-5820 and our professionals will be glad to assist you.
Login Procedure
You can log in to the Toolkit from your website or sign-in at www.propertyminder.com
To login into the Toolkit from your website:
Open the browser (e.g. Internet Explorer) and type your domain name (http://www.yourdomainname.com) in the top Address Bar.
On the top panel of your website, click Toolkit.
On the screen that appears, type your login name and password
Your login name is your email address.
Your password is case sensitive. Make sure that the Caps Lock button on your keyboard is not pressed.
If you do not remember your password, click the "forgot your password?" link and your password will be emailed to you.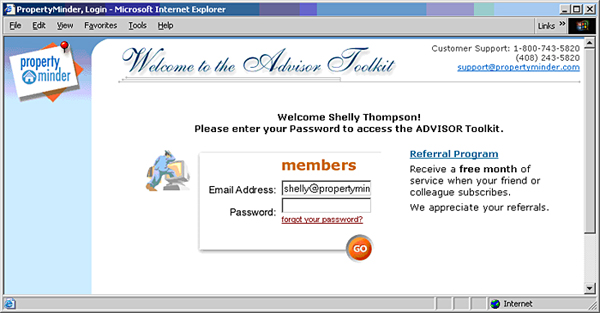 Open the browser (e.g. Internet Explorer) and type www.propertyminder.com in the Address Bar.
On the top right corner, click on the "Clients Login" link.
Type your login name and password.
Your login name is your email address.
Your password is case sensitive. Make sure that the "Caps Lock" button on your keyboard is not pressed.
My Account
My Account section allows you to:
Add/change you billing information
Add, change or forward email boxes
To change your credit card:
Click My Account button on the left navigation panel.
Go to Billing Information section.
Fill in required fields and click Submit button.
If you have any questions concerning your billing information please forward them to accounting@propertyminder.com.
Email Information
This section allows you to add emails associated with your website. You can have 2 mailboxes at one time for free and $5/month for additional emails. The size of each mailbox is 50 MB.
To make an email with your domain name, go to My Account section within the Toolkit left navigation.
Refer to Your Domains field and click Add email support link.
In Email Information section click Add New Mail Box and fill in your mailbox name and password fields.
Email Forwarding
You also have an option to forward your emails from the website to another mailbox.
To do so go to My account section of your Toolkit.
In section Forward Email From click Add New Forward.
Fill in the required fields and click OK.

WARNING: All email messages will be MOVED to the new email address and NOT COPIED.