Message Library
From PropertyMinder WIKI
The message library contains a library of pre-written messages that you can use while creating a campaign. Examples include: self-promotional, greeting, introductory, seller, buyer, thank you, birthday, home anniversary and other messages.
PropertyMinder will continue to add more templates to this Message Library in the future. If you have any suggestions, please email support@propertyminder.com.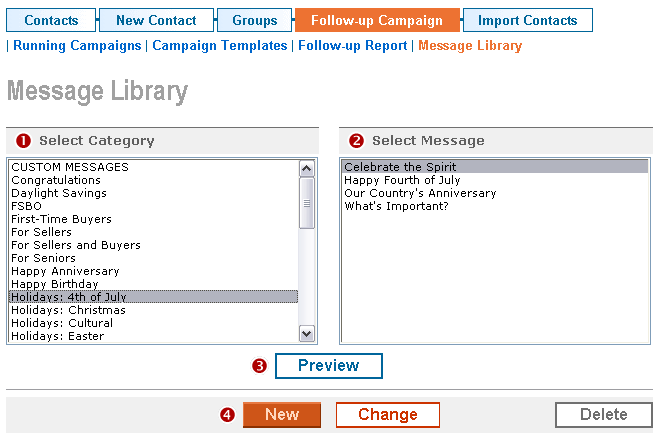 To view the message library:
Go to Client Relationship Management.
Click Follow-up Campaign.
Then click the Message Library link under the Follow-up Campaign button.

To add your own message to the message library:
Select New button to compose a new message.
Click Save to save it in the Custom Message category in the Message Library.
To edit an existing message:
To edit an existing letter in the Message Library, select the message from among the different categories, and click Change to modify the message.
On the Edit Message page, click Save As and provide a name for the message that you would like to save in the Message Library (Custom Messages category).