Changes to email delivery
From PropertyMinder WIKI
Our job as your real estate technology provider is to give you tools that keep you connected to your buyers and sellers. Your marketing and branding affect the amount of business you do each year.
Under certain circumstances, emails that are sent to clients which use @yahoo.com, @hotmail.com, and a few other email providers, are being blocked. In order to correct this immediately, we have come up with three easy options for you.
Email Option 1 (Default):
We are sending all email notifications to your clients from noreply@propertyminder.com and on your behalf. This email account will ensure that all of your emails are delivered to your clients even if you are using a @yahoo.com or @hotmail.com email. This option will not change the existing email account you have on file with PropertyMinder. This option will increase the amount of emails that are successfully delivered to your clients. All replies will go to your personal email address.
Email Option 2:
Choose this option if your email is hosted by PropertyMinder. You can also request that we create an email address based on your domain name. Option 2 will assist you with your branding by increasing recognition of your primary URL. In addition, it will increase the amount of emails that are successfully delivered to your clients.
Email Option 3:
Keep using your existing email address to send messages. Please note that this option significantly lowers the chances of successful message delivery.
You can control these options in your Toolkit in the Preferences section: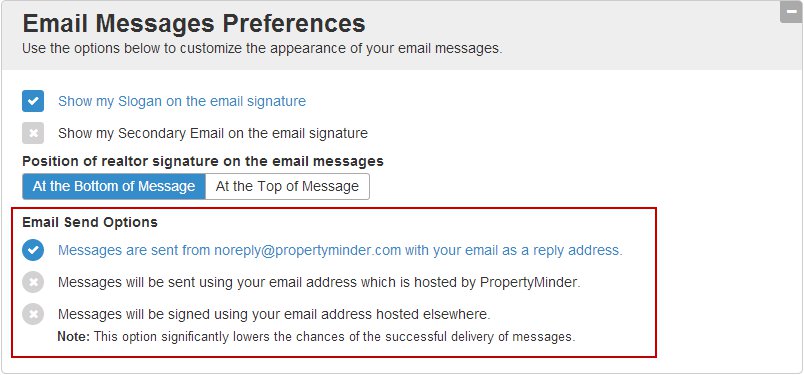 What you need to do:
If you choose Option 1, do nothing.
If you choose Option 2 or 3, log into your Toolkit, go to Preferences, and update Email Message Preferences.
If you are not sure which option to choose or do not know where your email is hosted, please contact PropertyMinder Customer Support at (800) 743-5820 x2 or support@propertyminder.com.
We are here to help.
Have a great day!
The PropertyMinder Team