How to install
From PropertyMinder WIKI
When you sign up for the Premium package, you get also Mobile application in a bundle. In order for your clients to be able to install the application on their mobile devices, we created a special default page with installation instructions on your website.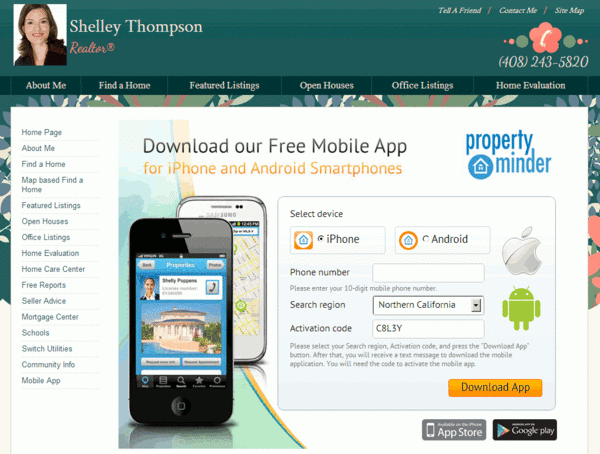 You need to enter in the phone number to receive the sms text with download link. Or you may follow the links to the iTunes or Google play stores to install the app. Simply search for PropertyMinder.
The first step is to select which device you own, then choose the MLS you subscribe too and that your clients are going to search on, afterwords simply hit "Download App". An activation code in automatically generated for you, however you can edit the code one time to whatever you wish. Ideally make it something easy for you and your clients to remember. This activation code will link the mobile device with the specific Realtor.
After you install the app, run it on your phone. You will see a start screen, then you will be required to enter the activation code (the one you've entered on the website, you also received it with the installation sms, or if you changed it to your desired code, enter in that one).
On the next screen you will be required to enter in the login and password of your personal Real Estate website. This double verification is necessary because our system has to link the Realtor's website, Mobile App, and the user's client account. All these steps ensure that the Realtor will be able to provide the most accurate Real Estate Information to all of their clients.
By default, after the login screen you will see the listing details page of the closest listing in relation to you GPS (if enabled) location. To go to the main menu, click on Map icon.